Take your learning to the next level with our
Complete Online ASL Course (Levels 1 & 2)
The Complete Online ASL Course offers both Level 1 & Level 2 courses for one low price!
20 Lessons
Each lesson is divided into bite-sized lectures and includes activities & exercises for extra practice.
Self Paced
Both Levels 1 & 2 are structured to be completed in 10 weeks but take as long as you need!
All for $42.50
$50.00
Get access to both Level 1 & 2 courses for one low price making it the best value in online ASL instruction.
What makes the Complete Course so effective?
More than 1400 vocabulary words you'll start using right away

Over 8 hours of bite-size video instruction

100+ activities and worksheets to help extend your learning

50 receptive practice questions

100 fingerspelling activities

Earn a certificate of completion to show off your achievement

Learn ASL on your own schedule, we keep track of your progress

Fun & Unintimidating - Suitable for ages 10 to 100!
Get started signing today!
Or start learning to sign today with our
Level 1 - Online ASL Course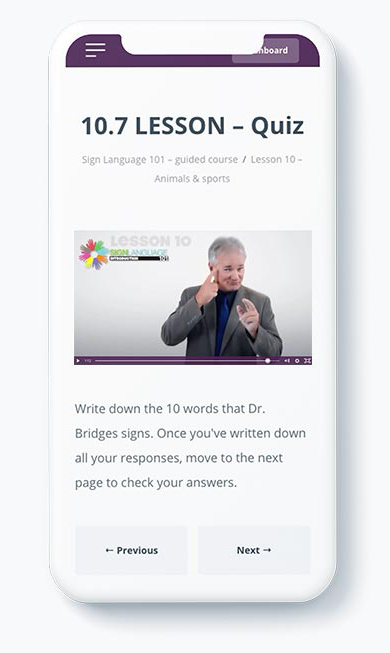 Get started signing today!
Start Signing Today!
Free American Sign Language Instructional Videos
We believe that ASL should be accessible to everyone regardless of economic means so we publish our videos for free from the start!
This site is dedicated to the memory of Lloyd Bridges & Jim Scoggins
Best friends and pioneers of Deaf rights and equal access for Deaf Americans. Read more about their history